Samsung Galaxy Tab S9 Ultra pics spotted – but you may be disappointed
Samsung's Galaxy Tab S9 series is expected to arrive at some point in the next few months, and we've just been treated to some renders of the S9 Ultra tablet.
This is the largest tablet in the next-gen Samsung Galaxy Tab S9 family, with a 14-inch screen that Samsung hopes will make you consider the device as a worthy alternative to the best laptops in 2023.
These new renders come courtesy of OnLeaks on Twitter (a well-known leaker) and MySmartPrice. (opens in new tab) (as first spotted by GSMArena (opens in new tab)). Check them out below:
Good Morning #FutureSquad! Here comes your very first look at the #Samsung #GalaxyTabS9Ultra (360° video + crispy sharp 5K renders)On behalf of @mysmartprice 👉🏻 https://t.co/Xi2v2Ebf1Y pic.twitter.com/CdsFY1D8MXMay 17, 2023
See more
In short, the Tab S9 Ultra looks pretty sharp, but the overall design remains much the same as its predecessor tablet from last year.
You have a 14.6-inch AMOLED screen (featuring a resolution of 2960 x 1848-pixels, just the same as the S8 Ultra), and that notch is still present on the front, playing host to two cameras.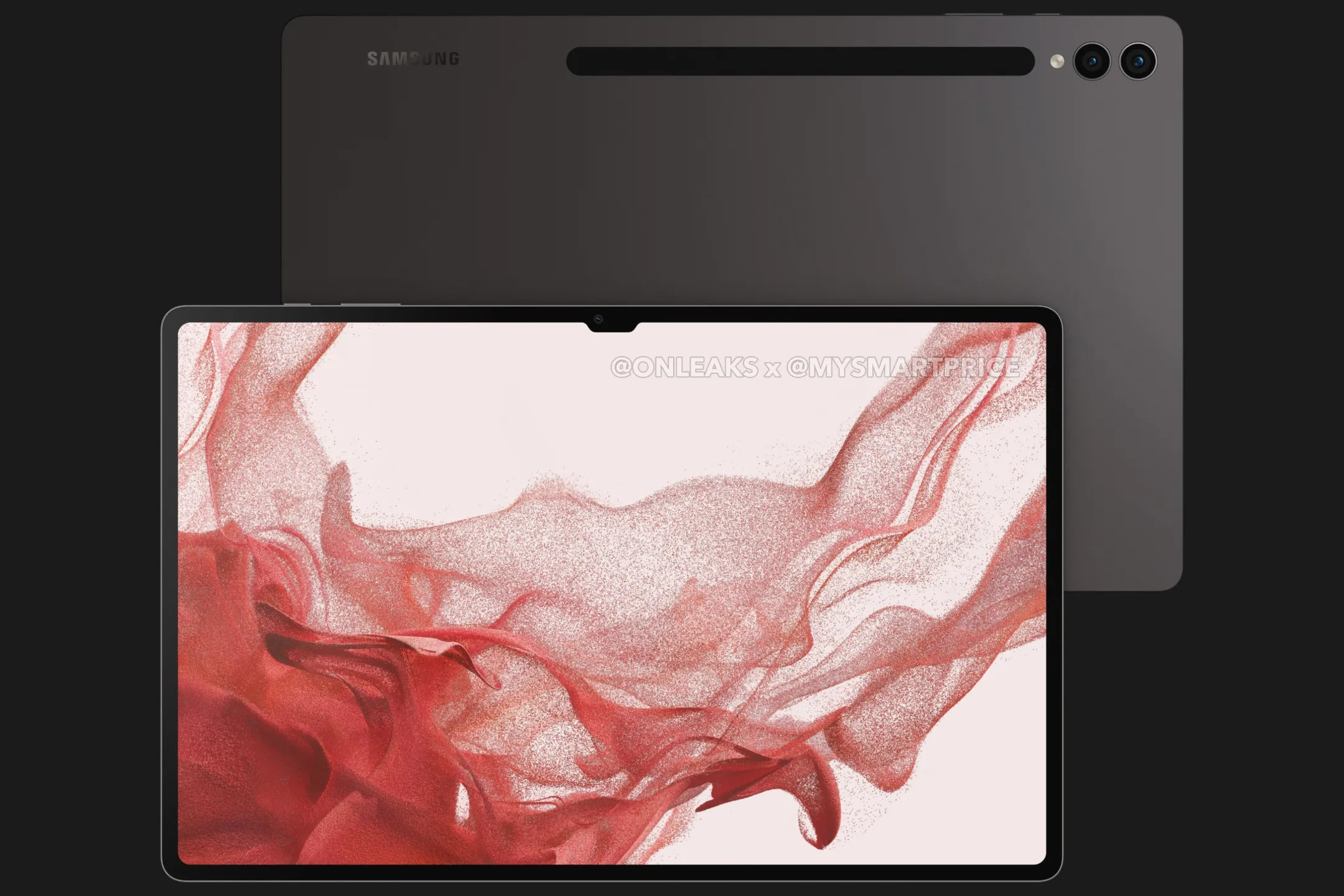 Matters have been switched up a bit around the back of the tablet, with the rear cameras looking neater, having been separated out with their own metal surrounds (rather than all being housed in one rather clunky, pill-shaped panel).
The size of the tablet remains the same (326 x 208 x 5.5mm), although the weight is slightly heavier this time round, at 737 grams (compared to 726 grams – so realistically, you won't notice any difference).
We're also told that the Tab S9 Ultra will come with an 11,200mAh battery, again sticking to the template laid down by the S8 Ultra. And, as previously rumored, it will offer 45W fast charging.
---
Analysis: Notching things up
While initial reactions to these renders are fairly positive on the whole, there are some rumblings about a lack of change. Specifically, there's some disappointment that the notch is still present. The notch is a very controversial design element, of course, but in the case of a tablet as big as the S9 Ultra, it's hardly a big issue.
Indeed, in our Galaxy Tab S8 Ultra review, we hardly noticed the notch – because the real-estate screen is so roomy, it really doesn't cut into the experience (so to speak). On a smaller screen, it's much more noticeable, of course.
OnLeaks has already shared renders of the Galaxy Tab S9 Plus, and similarly high-quality images at that, which lends this latest bit of spillage a little more weight.
The rumor mill contends that Samsung will unleash the new Galaxy Tab S9 models soon enough, likely in a late July or August launch alongside the Galaxy Z Flip 5 and Galaxy Z Fold 5. Just brace yourself for the price, because this giant-sized tablet will be an expensive proposition, no doubt.