Apple reveals new HomePod 2 wireless speaker built for Dolby Atmos
Apple has finally unveiled the HomePod 2, its next-generation wireless speaker. It features a very similar design to the first Apple HomePod from 2018, but with a redesigned speaker system that's even more geared towards Dolby Atmos and Spatial Audio. It will launch at $299 / £299 / AU$479. It's available to order today, and will be released on Friday, February 3rd 2022.
Also like the original, it features a high-excursion woofer for deeper bass, and an array of tweeters around its circular body – though this time there are five tweeters instead of seven in the original, and they're now upwardly angled, which are likely to help with the immersion of Dolby Atmos tracks.
It features both room-sensing and system-sensing to optimize audio as it's playing, which is a slight development over the original, which included room sensing – it's hard to say how much difference a 'system sensor' will make – Apple says that it "runs complex tuning models in real time to preserve dynamic range and maximize acoustic performance".
Like the original (there's a theme developing here), it's designed to work completely with the Apple ecosystem. It runs Siri as its voice assistant, and you can send audio to it over AirPlay 2 – but there's no option for an aux-in, or Bluetooth audio from any old device.
It does support Bluetooth, however, for smart home purposes – it also supports the Thread and Matter smart home systems, so it acts as a smart home hub for HomeKit and Matter accessories.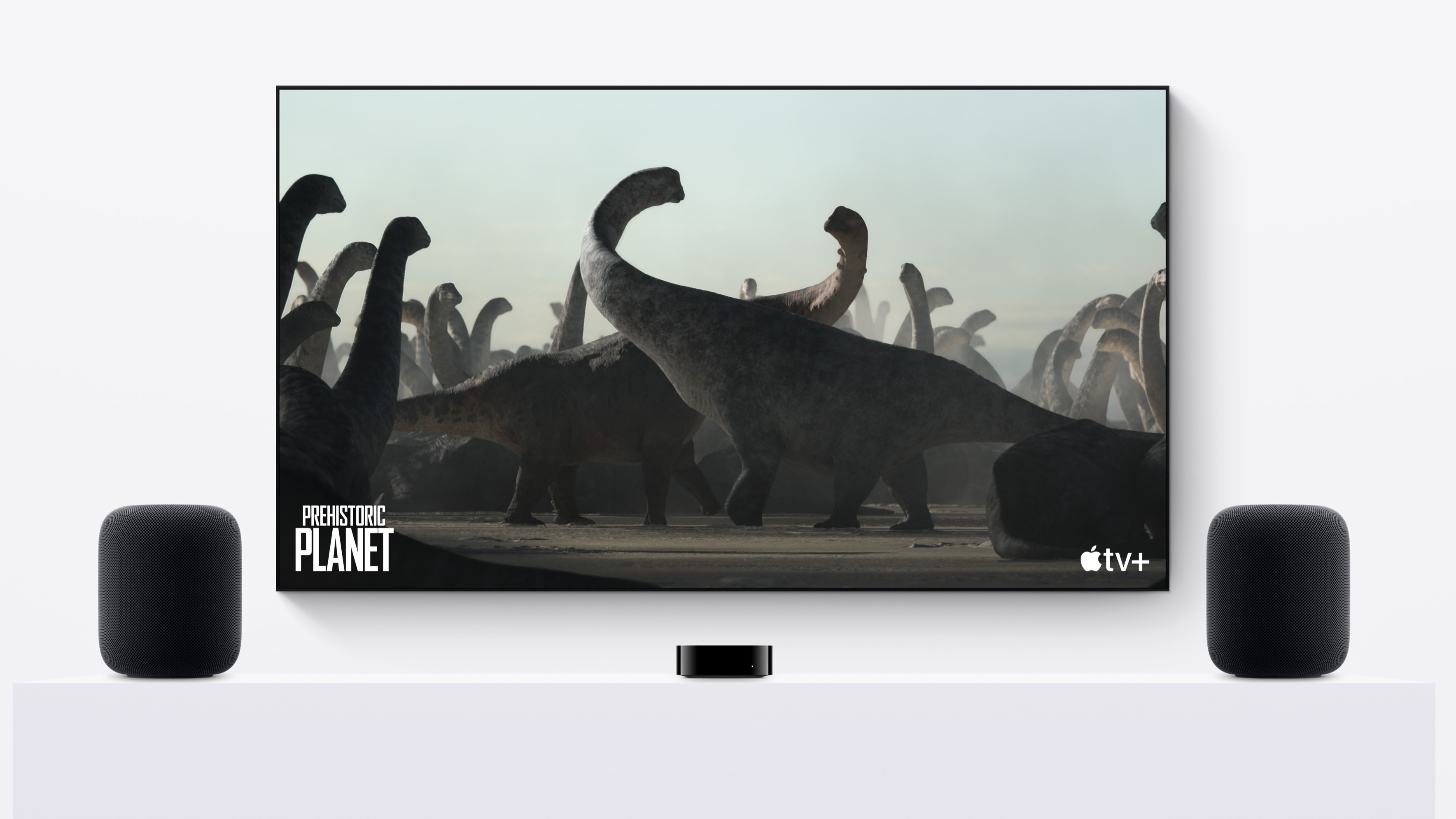 You can have the HomePod alone or in a pair, and it works with the Apple TV 4K as a speaker system – this means you use it an alternative to one of the best Dolby Atmos soundbars for everything you watch through the Apple TV (and other audio from your TV, if you have the Apple TV 4K 2022), though we'll have to test it to see how it compares for height and detailed directional audio.
At 5.6 inches in diameter, it's the same width as the original HomePod, but it's marginally shorter – it's now 6.6 inches high instead of 6.8 inches. It's available in black and white finishes, which Apple is calling Midnight and White.
The top is a swirling mass of color, but it now covers the whole top of the unit, just like the HomePod mini, rather than the small dot of color of the original HomePod.
It's coated in the same kind of fetching acoustically clear fabric as the original HomePod, which is just fine with me – it's still a great-looking device.